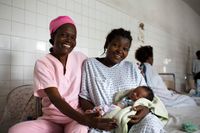 3.5.1

Antenatal care

Follow measures recommended under Section 3.3.1 and Section 3.4.1.

For pre-term and/or LBW babies

Monitor labor closely.
Prepare the delivery room for anticipated complications such as hypothermia and asphyxia.
3.5.2

Intrapartum and essential newborn care

In addition to following the guidance provided in Section 3.2, Section 3.3.2 and Section 3.4.2:

If there are signs of maternal or fetal distress, follow guidelines for providing BEmONC or CEmONC services.i

nfo

If the newborn, including pre-term and/or LBWa

bbreviation

babies, does not start breathing spontaneously or is not stable, follow the steps of the Newborn Resuscitation Flowchart (Figure 3.3) until breathing is established.
3.5.3

Postnatal care

During the immediate postnatal period (within the first hour of birth)

Follow the same guidance detailed in section Section 3.2 and Section 3.4.3 with accommodations for complications such as assisted delivery or birth by cesarean section.

In case of intrapartum complications during birth

Provide advanced care for respiratory distress syndrome such as CPAPa

bbreviation

support with ability to monitor oxygen saturation levels.
In addition to respiratory issues, the newborn may have other complications such as convulsions or hypoglycemia. Convulsions can be due to perinatal asphyxia, hypoglycemia or infection. If the newborn is convulsing:

Identify small and/or sick newborns, including preterm and low birth weight (LBWa

bbreviation

) babies immediately after birth and provide special carei

nfo

If the baby is unstable requiring frequent ventilatory support, and a functional, clean incubator is available, use the incubator until the baby is stable enough to transition to KMCa

bbreviation

(See Box 3.2 for KMCa

bbreviation

).
If the mother is not available to perform STSa

bbreviation

or KMCa

bbreviation

, enlist the support of another caregiver.

During the first week of life (second hour following birth up to seven days)

In addition to the measures recommended for pre-term and/or LBWabbreviation babies in Section 3.4.3:

If intensive care equipment is available, provide incubator care for preterm babies not yet stable enough for STSa

bbreviation

/KMCa

bbreviation

.
Provide advanced care for respiratory distress:

employ therapeutic use of surfactant for intubated and ventilated infants with respiratory distress syndrome;[1]
provide CPAPa

bbreviation

and monitor oxygen saturation levels and vital signs;

prevent and treat apnea of prematurity with caffeine (Section 3.6.1).

Monitor and manage newborns with jaundice with phototherapy or exchange blood transfusion based on bilirubin cut-off points (Box 3.10).

For babies exhibiting danger signs or indicators of neonatal infections

In addition to guidance in Section 3.4.3, provide case management of neonatal infections including sepsis, meningitis and pneumonia.

For pneumonia and sepsis, continue the regimen recommended in Section 3.4.3 for 10 days.
If meningitis is suspected or diagnosed, continue antibiotic treatment for 21 days. In addition to antibiotics, see Table 3.3 for management.

Table 3.3: Management of Meningitis (Download as image)

Indication
Intervention
Cyanosed (blue or purplish discoloration of the skin and/or mucous membranes)

Administer oxygen by nasal prongs or nasal catheter
Monitor oxygen levels with pulse oximetry

Severe respiratory distress
Diagnoses of respiratory distress syndrome

Provide CPAPa

bbreviation

Monitor oxygen levels with pulse oximetry

Drowsy, unconscious or convulsing
Check blood glucose and if the glucose level:

is < 20mg/100ml, give IVa

bbreviation

glucose
is > 20mg/100ml, feed immediately and increase feeding frequency
cannot be checked, assume hypoglycemia and treat with IVa

bbreviation

glucose and initiate feeding

Presence of convulsions

Administer phenobarbital (loading dose for phenobarbital 20 mg/kg IVabbreviation)

If convulsions persist

Give further doses of phenobarbital 10 mg/kg up to a maximum of 40 mg/kg.
If needed, continue phenobarbital at a maintenance dose of 5 mg/kg per day

Additional recommendations

Administer IVa

bbreviation

/IM ampicillin and gentamicin dosage based on weight of baby for 7-10 days
Continue to provide supportive care, reinforce hygienic practice, and closely monitor
Administer vitamin K

Note: If ampicillin is not available, benzylpenicillin can be used. If meningitis is suspected, or the baby is not improving on the initial antibiotic, consider using a broader spectrum cephalosporin such as ceftriaxone or cloxacillin.

Cloxacillin is also indicated if there is a high suspicion for staphylococcus infections

See Section 3.6 for further information about managing prematurity, infections and intrapartum complications.

See Box 3.12 for a checklist of minimum supplies at the hospital level. For advanced care in the hospital setting, see Annex 3 on advanced newborn care. Consult WHOabbreviation and UNICEFabbreviation 2019 manual on Management of the sick young infant up to 2 Months.

Newborn Care Supply Kits include the medicines, commodities and supplies to support safe births and newborn survival in the immediate postnatal period. The Newborn Care Supply Kits are complementary to the Inter-agency Reproductive Health Kits in Crisis Situations, which contain only some newborn health items and are managed by UNFPAabbreviation. If needed, please see the Newborn Care Supply Kits for Humanitarian Settings Manual for further information and information on how to procure the kits (see Section 5.4 for further information).

Box 3.12: Medicines for inclusion at the hospital level, depending on local capacity, include

benzylpenicillin (injectable 5 million IU/vial)
caffeine citrate (20mg/ml oral/injectable solution)
cefotaxime (injectable 125mg/vial)
ceftriaxone (injectable 250mg/vial)
cloxacillin (injectable 250mg/vial)
diazepam (injectable 5mg/ml)
epinephrine (1:10000 solution: 1 mg/ml, vial 1 ml);
glucose hyper, (50%, 50 ml vial)
gentamicin doses (injectable 40mg/ml)
IV/IM Phenobarbital Sodium (injection 200g/ml, vial 1 ml)
sterile water for injections that require dilution
dexamethazone (4mg Injections)
surfactant doses (suspension for intratracheal instillations 25mg/ml or 80mg/ml)