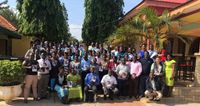 In Uganda, the newborn mortality rate is 19 deaths per 1,000 live births[1] and 41% of neonatal deaths[2] are due to preterm birth complications. Uganda's large refugee population is a major contributor to these figures. Uganda has been hosting refugees and asylum seekers since achieving its independence in 1962. Today, almost 1.5 million refugees[3] live in Uganda, making it the top refugee-hosting country in Africa and one of the top five hosting countries in the world.
Partners have found the Newborn Field Guide to be a particularly useful resource in sensitising key stakeholders and advocate for improved access to and provision of quality newborn health services in humanitarian contexts within Uganda. For instance, UNICEF Uganda, with support from UNICEF ESARO organised two workshops in April 2019 to disseminate the recommendations of the Newborn Field Guide.
The workshops, conducted in collaboration with national, regional and district Ministries of Health were attended by over 100 representatives from regional and district health authorities, local NGOs working as implementing partners, front line health care providers such as neonatologists and obstetricians, and professionals from Epidemiology, Water, Sanitation and Hygiene, Monitoring and Evaluation, Gender and Nutrition sectors. Organizations involved included UNHCR, AVSI Foundation, Médecins Sans Frontières, CUAMM, MIT, Care International among others.
The first workshop took place in Arua, Northern Uganda and the second workshop took place in Fort Portal, Eastern Uganda – the two regions within Uganda that host the majority of incoming refugee populations.
In these two regions, while refugee populations receive basic level of care for newborns by virtue of maternal services coordinated by humanitarian organizations, for advanced level of care, newborns are referred to the host community health facilities — mostly managed by the government. Through the two workshops, in addition to becoming sensitised to the needs of newborns in humanitarian settings, participants noted the need to include maternal and newborn health in national and sub-national emergency preparedness and response plans and the need to strengthen the collaboration across the humanitarian-development sectors.
7.1.1

Recommendations

There was consensus amongst participants on the following recommendations. These were consistent across Uganda, Kenya, and Ethiopia.

Strengthening community engagement to identify and address community bottlenecks
Strengthen linkages between refugee health facilities and host population facilities
Better use of data from the surveillance team ensures preparedness and effective response in time
Conducting training of managers, health professionals, community gate leaders and other stakeholders on newborn and patient friendly services
Improving logistical support and redistribution of commodities
Improving scientific evidence and innovation on models of care in fragile and humanitarian settings
Mainstream existing guidelines with the newborn health in humanitarian situations

---