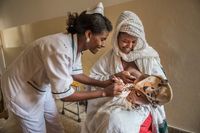 During the acute phase of a crisis, at a minimum, pregnant women and communities need to know:
where and when health services are available
how to access these services and their rights (Figure 5.1)
the benefits of seeking care
basic information about the appropriate care of newborns, including the identification of danger signs that indicate the need to seek further care (see Box 3.3 and Section 3.4).
At the outset of the crisis response, it is important to:
work with local staff from the affected population to formulate clear, evidence-based, culturally relevant messages to the affected population
identify contextually appropriate ways to communicate these messages, such as through radio, posters or social media.
Once the situation has stabilized:
Adapt BCCa

bbreviation

materials to incorporate culturally relevant examples of recommended practices, add/or change illustrations based on the context of the population served.
Suggest specific alternatives to known harmful practices (e.g., cow dung or other substances applied to the cord) and support those practices that are beneficial (such as increased family and household support for the mother).
Address broader issues such as newborn death, stillbirth and complications.
In protracted humanitarian situations:
Work with affected populations (including CHWs, TBAs, community elders, religious leaders) to foster community ownership for the design and dissemination of BCCa

bbreviation

materials and community mobilization strategies.
Raise awareness of RMCa

bbreviation

rights (Figure 5.1) among communities through socialization of the RMC Charter, community dialogue, or pregnancy groups where possible based on the local context.