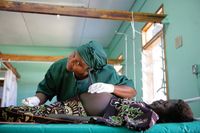 Key Points
Newborn services are part of the lifecycle continuum of care for SRMNCAHabbreviation, including integrated service delivery for women and children from adolescence, pre-pregnancy through to birth, the postnatal period, and early childhood.
In humanitarian settings, staff should provide integrated maternal and newborn health services across the health system continuum of care, including community and facility-based care.
Essential newborn care is basic care to be provided to every baby, including thermal care (skin to skin contact), infection prevention, initiation of breathing, initiation of breastfeeding, feeding support, monitoring for danger signs and postnatal care.
Common newborn causes of morbidity and mortality include infections, prematurity and intrapartum complications, which can be prevented and/or treated in humanitarian settings with appropriate, good quality health programming.