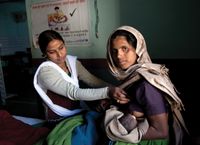 Key Points
Humanitarian crises result from armed conflict, natural and technological disasters, and other causes of social upheaval and forced displacement.
Neonatal mortality is highest in low-income settings, fragile states and countries that have recently experienced a humanitarian crisis, where risks of complications and infections are high.
Challenges to newborn health service delivery in humanitarian settings include service disruption and facility destruction, population movement, competing priorities and insecurity.
Globally, the three main causes of newborn deaths are direct preterm complications, severe infection and intrapartum-related complications.
Ensuring access to respectful maternal and newborn health services and commodities during humanitarian crises is critical to improve outcomes for women and their newborns.
Most interventions to save newborn lives can be successfully implemented in humanitarian settings.